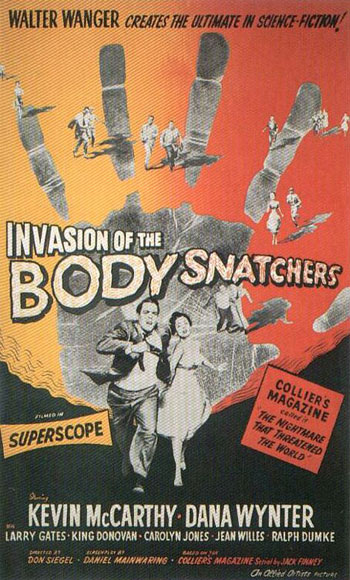 What do a human fly, alien pod people and talking apes from the future all have in common? They are just some of the transgressively reproductive heroes, antiheroes and villains – at the margins of society and outside the law – featured in the fourth series of 'Reproduction on Film', put on by the Generation to Reproduction programme with funding from the Wellcome Trust.
Wednesdays 4 February – 11 March 2015, at the Umney Theatre, Robinson College, and St Philip's Church Centre, Mill Road. All screenings at 7pm, venue alternates weekly.
Free admission. All welcome.
Series devised by Jesse Olszynko-Gryn.
4 February, 7pm, St Philip's Church: Escape from the Planet of the Apes
Introduced and with discussion led by Amy Chambers (University of Manchester)
Director: Don Taylor. Starring: Roddy McDowall, Kim Hunter and Bradford Dillman. US 1971. 98 mins.
You've seen the reboots; now see the third and most provocative installment of the original series. Find out why the fate of our planet depends on a pregnant chimpanzee from the future and her unborn baby, Milo.
11 February, 7pm, Robinson College: Invasion of the Body Snatchers
Introduced and with discussion led by David A. Kirby (University of Manchester)
Director: Don Siegel. Starring: Kevin McCarthy and Dana Wynter. US 1956. 80 mins, b/w.
As subversive today as when it was first released, this true science fiction classic oozed Cold War paranoia and conformism as it introduced audiences to the terrifying prospect of a silent, extraterrestrial takeover by emotionless, vegetal 'pod people'.
18 February, 7pm, St Philip's Church: Bed and Sofa
Introduced and with discussion led by Anna Toropova (Slavonic Studies, Cambridge)
Director: Abram Room. Starring: Nikolai Batalov, Lyudmila Semyonova and Vladimir Fogel. USSR 1927. 87 mins, b/w.
Astonishingly daring for its time, this genuinely funny drama of a ménage à trois in a cramped Moscow basement not only frankly portrays polygamy and abortion, but does so with stunning camera angles and montages.
25 February, 7pm, Robinson College: The Fly
Introduced and with discussion led by Sarah Dillon (English, Cambridge)
Director: David Cronenberg. Starring: Jeff Goldblum and Geena Davis. US 1986. 96 mins.
Cronenberg's radical reinterpretation of the 1958 science fiction thriller about a transporter accident takes 'body horror' to new depths as the DNA of maverick scientist Seth Brundle (Goldblum) gradually merges with that of a fly.
4 March, 7pm, St Philip's Church: Sparrows Can't Sing
Introduced and with discussion led by Lucy Bland (Anglia Ruskin University)
Director: Joan Littlewood. Starring: James Booth and Barbara Windsor. UK 1963. 94 mins, b/w.
A sailor (Booth) returns home to find his wife (Windsor) has shacked up with a bus driver who is now raising her baby – of doubtful paternity – as his own. Filmed on location in London's East End at a time of rapid urban development and social change, the film lovingly explores the lost world of the docklands, warts and all.
11 March, 7pm, Robinson College: Silent Cinema and the Comedy of Birth: An Evening of Shorts
Introduced and with discussion led by Patrick Ellis (Berkeley)
Including The Over-Incubated Baby (W.R. Booth and Robert Paul, UK, 1901), Madame Has Her Cravings (Alice Guy-Blaché, France, 1906), Spontaneous Generation (Émile Cohl, France, 1909), Krazy Kat: The Stork Exchange (Harrison/Gould, USA, 1927), and Kid Commotion (Saito Torajiro, Japan, 1935).
Where did babies come from, in the silent film era? This selection of short films (1896–1935) provides a humorous answer to the question. From the cabbage patches of France to the baronial mansions of Japan, the hydrotherapy spas of Italy to the stork factories of the United States, we witness the burglaries, infidelities and deceptions intrinsic to these 'slapstick pregnancies'.
Patrick Ellis will also present a paper to the Twentieth Century Think Tank on 'The "Aeroplane Gaze": Looking Up in 1909' the following day, Thursday 12 March, in the Department of History and Philosophy of Science, 1–2pm.