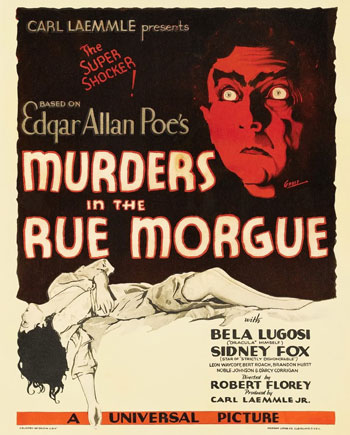 27 February – 21 March 2012 at the Cambridge Arts Picturehouse
Throughout the 20th century, films used the monstrous to explore concerns about intervention and normality. This second series of 'Reproduction on Film' presents works featuring various artificial and natural monsters, examining anxieties about science, sex, relationships, parenthood and social marginalisation. The series is put on by the Generation to Reproduction programme with funding from the Wellcome Trust.
Series devised by: Francis Neary, Jesse Olszynko-Gryn, Nick Hopwood, John Forrester, Jim Secord.
Monday 27 February, 6.30pm
The Golem: How He Came into the World
Introduced and with discussion led by Axel Bangert (MML, Cambridge)
Directors: Carl Boese and Paul Wegener. Starring: Paul Wegener, Albert Steinrück, Lyda Salmonova. Germany 1920. 84 mins, b/w.
Silent horror classic retelling of an ancient Jewish legend that set a standard for Hollywood's many later monster films. A creature made from clay is brought to life by an old rabbi in 16th-century Prague in response to antisemitic laws passed by the court.
Monday 5 March, 6.30pm
Murders in the Rue Morgue
Introduced and with discussion led by Vanessa Heggie (HPS, Cambridge)
Director: Robert Florey. Starring: Bela Lugosi, Sidney Fox, Leon Ames, Bert Roach. USA 1932. 75 mins, b/w.
Inspired by the Edgar Allen Poe story, this is an atmospheric and beautifully shot tale of a mad scientist with a rather strange theory of evolution. Dr Mirakle (Lugosi) runs a giant gorilla carnival attraction by day and performs diabolical blood transfusion experiments on apes and virgins at night.
Monday 12 March, 6.30pm
Eraserhead
Introduced and with discussion led by Philip Kiszely (University of Leeds)
Director: David Lynch. Starring: Jack Nance, Charlotte Stewart, Allen Joseph. USA 1977. 89 mins, b/w.
Lynch's surreal first feature uses powerful graphic imagery and expressionist sets to present dark anxieties of parenthood, sexuality and commitment in relationships. Nance's 'Henry Spencer' is forced to marry his girlfriend when she becomes pregnant, but he finds himself the father of an all-consuming, inhuman monster.
Wednesday 14 March, 6pm
Rosemary's Baby
Introduced and with discussion led by Lauren Kassell (HPS, Cambridge)
Director: Roman Polanski. Starring: Mia Farrow, John Cassavetes, Ruth Gordon. USA 1968. 136 mins.
Polanski sustains both tension and ambiguity in his influential adaptation of Ira Levin's thriller. When a happy, young couple move into a Manhattan apartment they initially have fun fending off their nosy, busy-body neighbours. But Farrow is increasingly frustrated and disturbed as she comes to believe that she has been impregnated by the devil in the form of Cassavetes, her actor husband.
Monday 19 March, 6.30pm
Village of the Damned
Introduced and with discussion led by Laura Tisdall (History, Cambridge)
Director: Wolf Rilla. Starring: George Sanders, Barbara Shelley, Martin Stephens. UK 1960. 77 mins, b/w.
In this compelling and faithful adaptation of John Wyndham's novel The Midwich Cuckoos, scientist Gordon Zellaby (Sanders) passes out during an afternoon telephone conversation, along with every other person and animal in the small village of Midwich. Then all the women become pregnant and give birth to very similar blonde offspring that use their strange powers to attempt world domination.
Wednesday 21 March, 6pm
Little Otik (Otesánek)
Introduced and with discussion led by David Sorfa (Liverpool John Moores University)
Director: Jan Svankmajer. Starring: Veronika Zilková, Jan Hartl, Jaroslava Kretschmerová. Czech Republic/GB 2000. 132 mins. Czech with English subtitles.
This wicked and satirical comedy uncompromisingly modernises a traditional Czech folktale, provocatively revealing both the destructive side of human procreative urges and the dangers of meddling with the natural order. A Prague couple are unable to have children so, to pacify his despondent wife (Zilková), Hartl carves a baby out of a tree stump. To his horror Zilková treats it as real, and when the creature comes to life it turns out to have a murderous appetite.