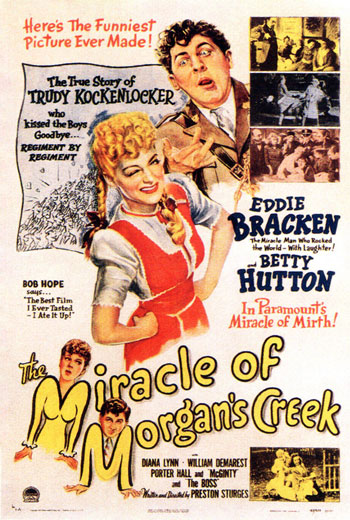 11 February – 18 March 2013 at the Cambridge Arts Picturehouse
The sometimes-winding road to parenthood can be a source of great joy and much anguish. This third series of 'Reproduction on Film' charts changes in cinematic representations of pregnancy, childbirth and babies from the 1940s to the present day. It is put on by the Generation to Reproduction programme with funding from the Wellcome Trust.
Series devised by: Jesse Olszynko-Gryn, Shirlene Badger, Francis Neary, Nick Hopwood, John Forrester, Jim Secord.
Monday 11 February, 18.30: Double-bill
Introduced and with discussion led by Johanna Gonçalves Martin (Social Anthropology, Cambridge)
This year's instalment of 'Reproduction on Film' proudly opens with Love Letter, a short film about teenage pregnancy directed by Cambridge student and film-maker Lucia Yandoli, who will be present for the screening. It is followed by Babies, a globe-trotting and thought-provoking documentary about what it means to be a baby.
Love Letter
Director: Lucia Yandoli. Starring: Sandra Enogie. UK 2012. 16 mins.
A teenage student reflects on the difficult summer she found out she was pregnant. Featuring impressive performances by first-time actors, Love Letter was workshopped as part of an education project at Highbury Grove School in Islington, North London.
Babies
Director: Thomas Balmès. Starring: Ponijao, Bayarjargal, Mari, Hattie. France 2010. 79 mins.
What is a baby? This cleverly shot documentary captures a year in the life of four babies from four corners of the world: Mongolia, Namibia, San Francisco and Tokyo. It provides a babe's-eye view of the strikingly divergent and similar experiences of these far-flung and intrepid toddlers.
Monday 18 February, 18.30: A Taste of Honey
Introduced and with discussion led by Fran Bigman (English, Cambridge)
Director: Tony Richardson. Starring: Rita Tushingham, Dora Bryan, Robert Stephens. UK 1961. 100 mins, b/w.
This classic of British 'kitchen sink' cinema portrays the gritty social realism of the gloomy bedsits, grubby chimneys and polluted canals of Salford. In her screen debut, Tushingham plays an unwanted teenage daughter who seeks solace from two social outcasts: a black sailor who gets her pregnant and a homosexual man who makes her happy.
Monday 25 February, 18.30: Raising Arizona
Introduced and with discussion led by Rachel Bowlby (UCL)
Directors: Joel and Ethan Cohen. Starring: Nicolas Cage, Holly Hunter. USA 1987. 94 mins.
In this sublimely inventive and sometimes surreal comedy farce, an inept convenience store robber (Cage) is saved from another stretch in the penitentiary when he falls in love with a prison officer (Hunter). But when the happy couple discover they are infertile, they decide to steal one of the famous Arizona quintuplets and make their lives stranger and more complicated still.
Monday 4 March, 18.30: The Miracle of Morgan's Creek
Introduced and with discussion led by Antonella Palmieri (University of Lincoln)
Director: Preston Sturges. Starring: Eddie Bracken, Betty Hutton, Diana Lynn, William Demarest. USA 1944. 99 mins.
During World War II, Hollywood's patriotic duty was to shoot stirring dramas that celebrated America's brave soldiers and honoured their loyal wives. This screwball comedy tweaks such stereotypes to tell the irreverent tale of Trudy Kockenlocker, a small town girl who after one all-night party wakes with vague memories of a wedding, finds herself pregnant and finally gives birth to sextuplets.
Monday 11 March, 18.30: Junior
Introduced and with discussion led by Laura King (University of Leeds)
Director: Ivan Reitman. Starring: Arnold Schwarzenegger, Danny DeVito, Emma Thompson. USA 1994. 109 mins.
A comedy romp with a twist. Schwarzenegger is a struggling fertility scientist, indulging in self-experimentation with a new drug after he loses his research grant. The drug works and the hilariously feminised muscle man becomes a mother, supported by a surprisingly well-matched Thompson in the father role.
Monday 18 March, 18.00: Vicky Donor
Introduced and with discussion led by Eleanor Halsall (SOAS)
Director: Shoojit Sircar. Starring: Ayushmann Khurrana, Yami Gautam, Annu Kapoor. India 2012. 125 mins. Hindi with English subtitles.
A light-hearted Bollywood film like no other, Vicky Donor tells the story of an enterprising fertility expert in Delhi and the intercultural romance that blossoms between his star sperm donor, a Punjabi boy, and the Bengali girl with whom he falls in love.