A one-day workshop, organised by Sarah Wilmot and Nick Hopwood, and funded by the Wellcome Trust, was held in the Department of History and Philosophy of Science, University of Cambridge, on Friday 29 April 2005.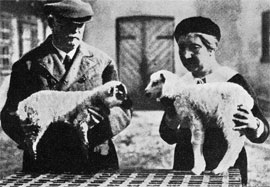 The reproductive technologies that through the twentieth century were increasingly used to detach sex from reproduction continue to attract intense interest. But while the history, sociology and anthropology of reproductive medicine have been actively studied for several years, we have hardly begun to explore agriculture, the other major field of reproductive innovation, and its relations to medicine. The use of animal breeding as a resource for eugenics is clear and a rich body of research on the making of hormones has linked abattoirs with laboratories, pharmaceutical companies and clinics. Yet though Adele Clarke long ago highlighted the importance of the intersection of biology, medicine and agriculture in the making of the reproductive sciences, we still know very little about farms as sites of technological innovation in the reproduction of both other animals and human beings. This workshop aims to break new ground in two main ways. First, we want to promote work on the making, organization and communication of reproductive knowledge among experts and laypeople in agricultural settings. We hope to bring together agricultural history with methodological insights from the sociology and anthropology of science, technology and medicine. Second, we want to explore the networks linking animal breeding, reproductive science, experimental biology, clinical medicine and the pharmaceutical industry. How have, not just raw materials, but also technologies and discourses, circulated between farms, abattoirs, research laboratories and clinics? To what extent and in what ways have farm animals served as a testing ground for technologies, from hormones to artificial insemination and embryo transfer, that were later developed for humans?
Programme
Adele Clarke (University of California, San Francisco) 'Reflections on reproductive sciences in agriculture in the US and the UK since c. 1900'
Christopher Polge (University of Cambridge) 'The Animal Research Station in Cambridge'
Sarah Wilmot (University of Cambridge) 'From public service to artificial insemination: animal breeding science in early twentieth century Britain'
Abigail Woods (University of Manchester) 'The farm as clinic: managing bovine infertility in wartime Britain'
Paul Brassley (University of Plymouth) 'Beyond the dairy: the uptake of AI in other farming systems'
Naomi Pfeffer (London Metropolitan University) 'Of meat and medicine, or where profit meets science'
John Clarke (University of Oxford) 'The scientific study of reproduction and fertility in Britain, France and USA: the birth and growth of three learned societies'
Sarah Franklin (LSE) 'Ovine imbrications: from the woolsack to the egg sac in Anglo-Australian sciences of sheep'
Information on speakers
Adele Clarke is Professor of Sociology and Adjunct Professor of History of Health Sciences in the Department of Social and Behavioural Sciences, University of California, San Francisco. She is the author of Disciplining reproduction: modernity, American life sciences, and 'the problems of sex' (1998) and numerous articles on the sociology of reproductive technology using feminist, cultural, and science and technology studies perspectives.
Christopher Polge, CBE, FRS pioneered the deep-freezing of semen; his contributions to reproductive physiology include cell preservation, fertilisation processes, egg biology and embryo manipulation for farm animal improvement. From the 1940s he worked at and finally directed the ARC Unit of Reproductive Physiology and Biochemistry (formerly the Animal Research Station) in Cambridge.
Sarah Wilmot is a Senior Research Fellow at HPS, Cambridge. Funded by the Economic and Social Research Council, she is researching the history of artificial insemination in cattle in Britain from c. 1890–1955, and contributes to teaching on the history of reproductive technologies. She has published on veterinary history and the history of agricultural science.
Abigail Woods is a Wellcome Research Fellow at the University of Manchester and has recently completed a book on the history of foot-and-mouth disease in Britain, 1839–2001. She has been awarded funding for a new three-year study on 'The veterinary medicalisation of bovine reproduction, 1930–60'.
Paul Brassley was a major contributor to the Cambridge Agrarian history of England and Wales, volume 7, 1850–1914 (2000) and has published many articles on agricultural science in Britain in the nineteenth and twentieth centuries. Formerly of the Faculty of Food and Agriculture at Seale Hayne, he is now Senior Lecturer in Rural History and Policy at the School of Geography, University of Plymouth.
Naomi Pfeffer is Professor of Social and Historical Studies of Medicine at London Metropolitan University. She is the author of The stork and the syringe: a political history of reproductive medicine (1993). She is currently working on the history of human tissue collections in the US and the UK, and ethical issues in the banking and collecting of pregnancy-related tissue samples.
John Clarke, of the Department of Zoology at Oxford, has been an active member of the Society for the Study of Reproduction and Fertility since 1963. In 2004 he was awarded the Society's Marshall Medal for outstanding contributions to the study of fertility and reproduction.
Sarah Franklin is Professor of Social Studies of Biomedicine in the BIOS Research Centre at the London School of Economics. She is the author of Embodied progress: a cultural account of assisted reproduction (1997), Technologies of procreation: kinship in an age of assisted reproduction (1998), and Global nature, global culture (2000), along with many other contributions to the anthropology of the biosciences.